Shopping Cart
Your Cart is Empty
There was an error with PayPal
Click here to try again
Thank you for your business!
You should be receiving an order confirmation from Paypal shortly.
Exit Shopping Cart
| | |
| --- | --- |
| Posted by Brian on October 5, 2019 at 3:25 PM | |
A recent interview with The Wildlife Society was just posted on their website (see below), check it out here: https://wildlife.org/researchers-discover-hummingbird-hybrid-zone/
As is pointed out in the interview article, I'm highly suspicious this hybrid zone, although it arose naturally, is larger than it would be in the absence of human disturbance and landscape alteration. Anthropogenic disturbance and habitat modification are reshaping species distributions and bringing previously isolated species into contact. Although under-studied, the potential for disturbance to erode species boundaries has enormous implications for conservation and management, especially when declining species are involved. Migratory Allen's and Rufous Hummingbird, species of conservation concern on the Partners in Flight Watchlist, form a hybrid zone in northern California and southern Oregon. Hybrids are successful at exploiting disturbed habitat and outnumber parental species in disturbed areas across the hybrid zone.
When two species interbreed, they exchange genes, and their resultant offspring have genomes (and traits) that resemble both parental species. If hybridization spreads too far into the range of a species with a small range, it could threaten the genetic integrity of that species if the genome of the other hybridizing parent species is expanding south as a result of gene flow. I have preliminary data that shows high levels of gene flow from Rufous Hummingbird, far into the range of migratory Allen's Hummingbird, and additional data showing migratory Allen's is undergoing a population decline (although non-migratory Allen's populations are expanding rapidly and doing just fine). Thus, hybridization might be affecting the long-term viability migratory Allen's Hummingbird in the  northern part of its range. Further, non-migratory Allen's Hummingbird is expanding its range, likely due to urbanization and landscape alteration. I also have preliminary evidence of hybridization between non-migratory and migratory Allen's at the southern end of the breeding range of migratory Allen's, so I want to investigate whether interbreeding has recently expanded north, further into the range of migratory Allen's. This is a complicated, interesting system that I want to use to show how analyses of hybridization are relevant (and needed) when addressing certain conservation issues. I plan on looking into this in the future (possibly as part of a postdoc project!) to establish whether human-enhanced hybridization is detrimental to the genetic integrity of a (likely) declining migratory subspecies.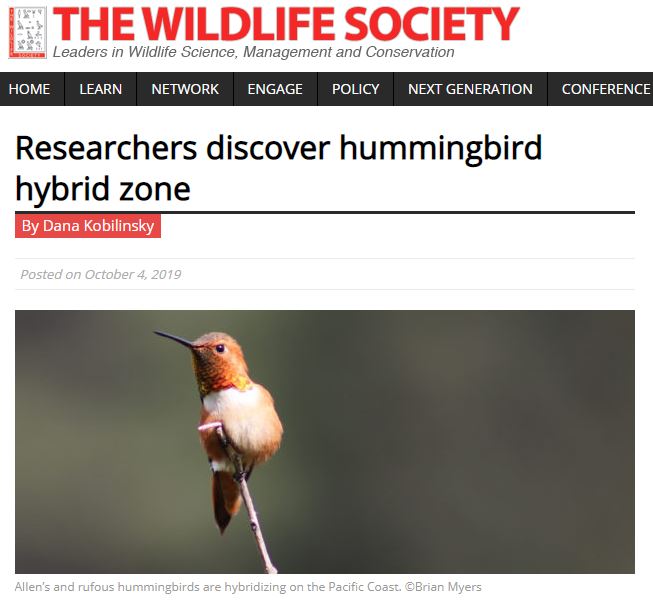 Categories: None
/