Shopping Cart
Your Cart is Empty
There was an error with PayPal
Click here to try again
Thank you for your business!
You should be receiving an order confirmation from Paypal shortly.
Exit Shopping Cart
| | |
| --- | --- |
| Posted by Brian on April 8, 2018 at 1:50 AM | |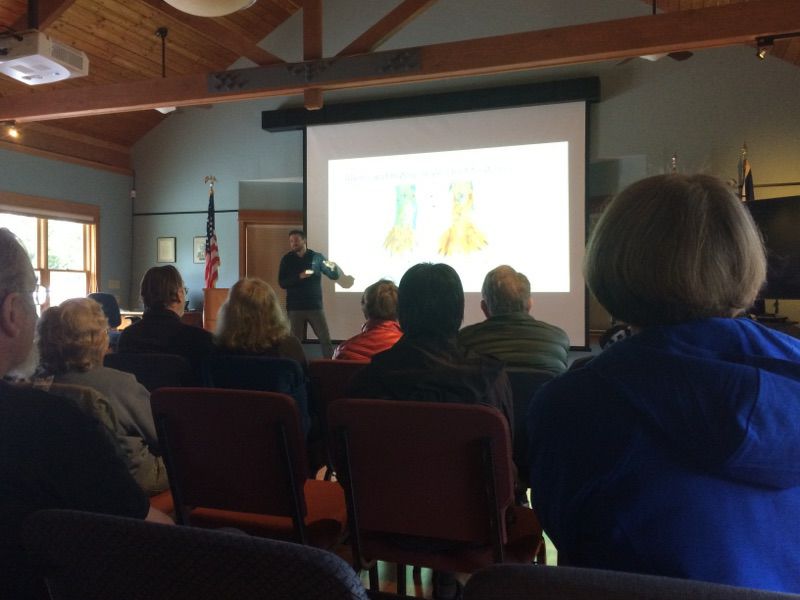 The last week and a half has been really productive! To date, we've caught 40 birds in 26 days. Most species of plants seem to not be flowering yet for some reason, and although it makes it tougher on the birds (I'm sure the populations will be just fine in the long run), it makes our work a lot easier, because they storm my feeders. Out of 9 or 10 localities that I planned to sample this season, we're working on the fifth, so progress is definitely being made. Even though were 40-50 miles inland, the birds are still mostly Allen's-like, although we've seen a lot of really strange behaviors that I haven't observed in pure Allen's or Rufous. For example, I've seen birds not flying high enough to make dive sounds, and birds leaving out parts of displays that pure birds do, all multiple times-to a nerd like me, it's kinda fascinating.
Today I gave a research presentation to the South Slough National Estuarine Research Center and the Cape Arago Audubon Society in Oregon. I gave a one hour presentation to about 50 people about the Allen's x Rufous hybrid zone, discussing sexual and natural selection, and the importance of evolutionary biology in general. The audience was very interested, and many of them suspected there were hybrids here long before I knew about them! There were a lot of questions related to female choice-what is a female looking for in a potential mate? It's very difficult to study that in hummingbirds-I've never seen them actually mate, even though my dissertation focuses on courtship. I don't know what a receptive female looks like-wild females usually visit a male's territory to feed, and once the male starts harassing them, they tend to leave the area very quickly. Maybe for my next dissertation! However, through things like cline analysis, we can see which characters are important to speciation, and imply which components of sexual selection drive differences between the species, which is what I am attempting to do in my research. It was a lot of fun to have an interactive experience, bring live birds in, and showing videos of hybrid characteristics they can go outside and observe on their own. Sharing research with the general public is a rewarding part of what I do-why do all of the work if you aren't going to make your results widely available?
We stayed in a yurt for the last couple of nights, and a bat that was inside the yurt (somehow) flew by my head-that sums up the extent of wildlife that I've seen since the last post! In some other "news", I ripped two pairs of jeans in the last week-one pair was while chasing a hummingbird into a trap-at least I somehow still caught the bird. As of last week, most of the time has been spent (and will be spent) in inland northern California, working along highway 96, seeing whether the evolutionary phenomena acting on the coastal transect act similarly inland. For some reason, more snow is expected later this week where we will be working, with temperatures dipping into the low 30s at night...not looking forward to that!
Categories: None
/